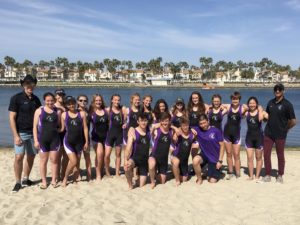 Introduction to Rowing will provide you with a basic understanding of the sport of crew racing.  No prior rowing experience is required to join our team!  The one-week ITR provides an opportunity to try out rowing in a low-pressure, friendly, learning environment.
Age range: 12-18 years old (Must be 13 by Dec 31 of the calendar year)
Cost: $100
Venue: Tempe Town Lake / TJC boathouse – 620 N. Mill Ave., Tempe, Arizona, 85281 (Map to TJC boathouse)
Currently Scheduled Intro to Row Sessions
| | | |
| --- | --- | --- |
| Day | Time | Location |
| Monday, May 15, 2023 | 4 pm to 6:30 pm | Boathouse |
| Tuesday, May 16, 2023 | 4 pm to 6:30 pm | Boathouse |
| Wednesday, May 17, 2023 | 4 pm to 6:30 pm | Boathouse |
| Thursday, May 18, 2023 | 4 pm to 6:30 pm | Boathouse |
| Friday, May 19, 2023 | Rest Day – No Practice | |
| | | |
| | | |
The next ITR is scheduled to take place May 15-18, over 4 days with 1 on land and 3 on the water. Bring a water bottle, hat, tight fitting clothing, crocs/wet shoes and tennis shoes, and a towel. We strongly encourage participants to make every effort to attend each of the 4 classes in order to develop fundamental rowing safety and skills.  Note that the regular season starts on Tuesday, January 17, and loosely follows this same schedule every week with the exception of some holidays. Private ITR sessions are not being scheduled at this time. More information regarding registering for the season and that schedule are on the website.
All athletes who wish to join the team must complete an "Intro to Row" before joining.
Please register by completing our Intro to Row Application (Note: If you have multiple teens who wish to try it out, please fill out this form one time for each rower)
And then complete the following:
1. Float Test
All Intro to Row participants are required to complete a Float Test to prove swimming competency. Several options for completing your Float Test include your local public pool, Kiwanis Recreation Center/Tempe, Valley of the Sun JCC, Cactus Aquatic and Fitness Center, PCDS Pool, or YMCA. the Float Tests must be completed in a pool under the supervision of a lifeguard certified by the American Red Cross or equivalent. We recommend that you call ahead to confirm schedule availability and costs.
Please download and print the Float Test Form here.
2. Waivers
Each rower and parent/guardian must read and sign the Intro to Row Waiver and Rules Packet which can be downloaded here.
3. Payment
Payments can be made using Zelle $100 (which is offered by most major banks as a payment service linked to your checking account) or PayPal $105 (use payment@tempejuniorcrew.org for the recipient email address).