Tempe Junior Crew coaches are an elite group for an Arizona juniors rowing team. Our coaches have life-long passions for rowing and have competed and coached on multiple competitive levels.
Peter Figgins, Program Director and Head Coach
Peter was introduced to rowing in 1989 by his father, a former collegiate oarsman at Queens University in Belfast, who was one of the founders of the Three Rivers Rowing Association (TRRA) in Pittsburgh, PA.
​
After rowing recreationally for five years, Peter joined the TRRA masters competitive program, and rowing quickly became one of the major passions in his life. Peter became the TRRA Masters race coordinator in 1997. During his tenure, the club's crews won plenty of hardware including five podiums at the Canadian Master Nationals in 1998 and four at the US Masters Nationals in 1999.
In 2000, Peter was drafted into the coaching ranks for his children's high school rowing program and, over the next five years, his crew doubled in size and captured several medals including the Midwest Scholastic Championships and the CSSRA Championships at St. Catharine's, Ontario. The juniors were also honored as the "Top of the Class" high school program at Three Rivers Rowing Association.
​
Peter relocated to Vermont with his wife Lori in 2005 and worked as Head Coach for the Men's Crew at the University of Vermont. Under his leadership, the team won the championship at the New England Fours Regatta in 2008 as well as three consecutive victories in the Men's Varsity 4+.
In 2006, Peter began coaching at the Craftsbury Sculling Center. Peter moved to Arizona to take on the head coaching position for the Rio Salado masters team. In 2015 he began working with Xavier Crew as a part time technical coach for both novices and varsity rowers.  In 2019 Peter became the Program Director and Head Coach for Tempe Junior Crew.
Lesleh Anderson Wright, High Performance Coach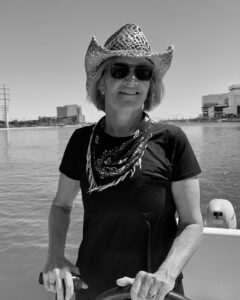 Lesleh Anderson Wright has been involved in rowing for 48 years in one form or another. She is a former Canadian National Team coxswain and a 1984 Olympian. She has coached at Ridley College in Canada, the St Catharines Rowing Club, ZLAC Rowing Club and had the privilege to coach the coxswains for Oxford University in the UK as they embarked on the transition to the Thames from 2012-2016.   She is the Athletic Director for Chinook Performance Racing, a high-performance team she co-founded in 2014.Chinook is a masters team comprised of former elite and college athletes from all over the world that have won the US Masters Nationals Overall Points trophy consistently since 2015.  Lesleh has been coaching the youth athletes at Tempe Junior Crew since 2020.  In addition, she owns and manages her private rowing business, SteeringUwright LLC. In June and July of 2021, she will be the Head Coach at US Rowing's, Northwest Girls Olympic Development Camp where TJC's own Campbell Leid and Elle Rosenfeld are invited participants this summer of 2021.
Campbell Leid, Assistant Coach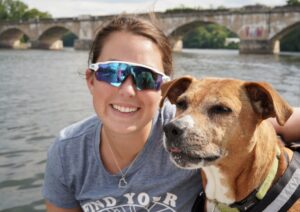 Campbell Leid began rowing in the fall of 2018 with Mile High Rowing Club in Denver, Colorado. With a background in competitive swimming, she had a natural feel for the water and loved rowing from day one. Following her family's relocation to Phoenix she finished her high school rowing career with Tempe Junior Crew with first-place finishes in the 1x and 2x at Central Youths in the Spring of 2021. Campbell was invited to USRowing's High-Performance camp following graduation and was recruited to row collegiately at the Division 1 level. Medical obstacles prevented Campbell from being able to physically participate but she transitioned from a shell to a coaching launch in October of 2021, and uncovered a passion she didn't even knew she had: coaching! She recently completed an internship at Craftsbury Outdoor center and has had an opportunity to shadow many different coaches with various backgrounds. Just as they inspired her, Campbell hopes to play a role in inspiring the next generation of talented rowers. Aside from her coaching duties, Campbell is currently a student at Arizona State University pursuing Marketing and Sports Business.